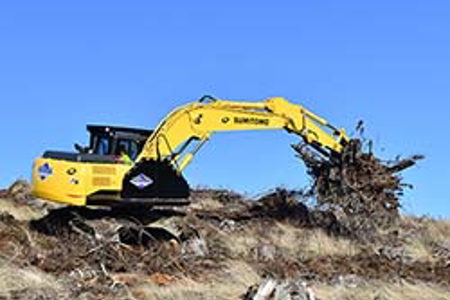 At school as an 11-year-old, Darrin Kealey's dad walked into class in his gum boots saying he needed him to come and drive a bulldozer as he'd got one of his trucks stuck. And that's how his career in machine operation began.
Refinements in machinery have come a long way since then and Sumitomo's reputation for stability, smoothness and fuel-efficiency puts it amongst the frontrunners in that refinement. Darrin went into farm and civil excavator work around New Zealand and then in Brisbane and Melbourne, doing subdivision and urban work before getting into forestry land prep back in New Zealand.
This month the Iron Test team visits his site in Berwick Forest near Waihola (Otago) to test his new Sumitomo SH210 LF-6 set up for land prep. It's just ticked over the 1000-hour mark. He currently has two Sumitomo's and a Volvo for land prep and earthworks and a smaller five-tonne excavator dedicated to civil and farm work.
It's fairly steep at the bottom of Berwick Forest and there's a Madill hauler running across the valley when the team arrives, but this ground is nicely contoured higher up, just a bit steeper than rolling so ideal for raking.
This month's Iron Tester and writer, Tim Benseman, says this Sumitomo is a great land prep machine.
"Smooth and stable. One of the key differences between a logging operator and forestry land prep op is that the latter is reaching out fully almost every time they perform a manoeuvre, so smoothness and stability at full reach is number one," he says.
"This machine has the heavy-duty boom for forestry and the high lift which is good for getting the boom and stick up closer to the cab when sidling through narrow road cuttings raking up debris or squeezing between log stacks. Without a high lift in land prep you have a few frustrating moments and can also get your rake stuck on top of the cab if the rake isn't set up right for the machine. The boom is about a metre longer than some other brands as well so that adds to its capability and efficiency," he adds.
To read more, get your copy of the December/January 2024 edition of NZ Logger magazine, on sale from 4 December. Check the link on this page to subscribe to either a printed or digital copy (or both).