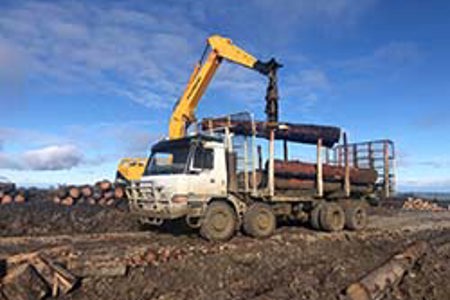 The "suicide track" on Kent McKerras' log site on River Ridge, a forest managed by Forest 360 about 25 minutes north of Whanganui, offers a challenging test for a Tatra 8x8 forwarder as the NZ Logger Iron Test soon found out.
Compared to purpose-built forwarders, the Tatra is fast. While a dedicated forestry forwarder will do 7 to 17.5kph, this Czech Republic-made unit will do a bit over 30 kph in this terrain unloaded, with a top speed of 110 kph in better grades and harder surfaces.
Operator, Malcolm Young, is in his early sixties and very focussed on the track given the slope, knee deep ruts and recent record rainfall. The team gets the video camera rolling because this is going to be an epic ride.
And epic it was. To read more, get your copy of the August 2022 issue of NZ Logger, on sale 1 August. Check the link on this page to subscribe to either a printed or digital copy (or both).