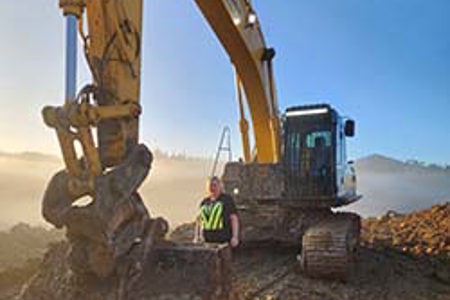 As a young girl, Haley Adamson always preferred Caterpillars to butterflies but it was moving from earthmoving into building forestry roads that made the biggest change in her life.
Having a dad who ran an earthworks contracting business certainly smoothed the path for her into a career driving heavy machinery, but there is nothing automatic about following in her dad's footsteps.
As Haley points out, there are plenty of other forestry and earthmoving operators whose daughters haven't wanted to jump in the cab; in fact many have been keen to do almost anything else.
So it's still almost as much of a nice surprise for her when she sees another woman at the wheel of a big rig, or, like Haley, driving a digger, as it is for most of the boys in the construction and forestry businesses.
It's been a gradual transformation, she says. Haley has been in this man's world for nearly 20 years – she had a couple of years off when she had her son, Layton, but these days, she is seeing more women at the controls.
There isn't a wall of prejudice against women doing jobs that, last century, were almost exclusively male, certainly not among Haley's workmates. And, in her experience, employers seem to think more women in the workforce would be a good thing.
"People do look at you like 'oh, a woman driving' but then they also look at you like 'that's cool, a woman driving!' Because you don't often see that.
"No-one's ever really looked down on me in that area. They've always praised me: 'you're doing real well'. They reckon women look after the gear better too, and keep it tidy. Just like your cabs and that, sweeping them out at the end of the day. Looking after them whereas some men don't take pride in it. My boss also told me women tend to calm the guys down."
Haley can't personally verify that because she doesn't know what it's like when she's not there.
To read more, get your copy of the December/January 2024 edition of NZ Logger magazine, on sale from 4 December. Check the link on this page to subscribe to either a printed or digital copy(or both).