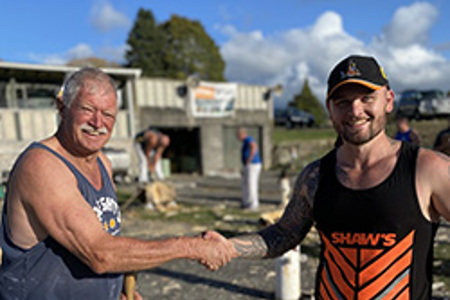 Bushman, bodybuilder, axeman, runner… any one of these titles fits Matthew Grant Stewart like a chainsaw mitt. His love for the bush gelled well with his passion for fitness, and combining the two to become a competitive axeman was a natural progression.
He developed his love for the bush as a child, sitting on his dad's knee in any number of skidders, diggers, haulers or loaders and he is no stranger to hard work. He got into "hitting the gym" when he was in high school and intrigued by competition wood chopping since he was "a young fella" and his parents took him to the A&P shows in Mosgiel, he says he had "no idea" how to get into the sport.
"I kept asking around until about a year ago when I met Laurie Honey at Patchell's in Rotorua who is right into chopping in a big way. I asked to see some videos and the big question came next, 'How do I get into it?' " Laurie soon introduced him to axeman legend Terry Wilkins.
With the right guidance, Matthew soon found his way and now even his wife, Anita, is in training. "She has been in a competition for Jack & Jill sawing, a two-man handsaw similar to what they used in the 1800's to fell trees alongside axes which is a part of why I love chopping as it's all history to forestry," says Matthew.
Read about his journey in the June 2022 issue of NZ Logger magazine, on sale from 30 May. Click the link on this page to subscribe to either a printed or digital copy (or both).