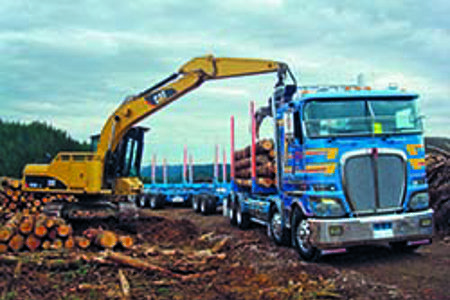 All industries face challenges in managing logistics but none more so than forestry. From remote and rugged locations to limited communications, variable forests, breakdowns and, of course, the weather, the logistics of forestry can be a maze.
To navigate that maze, Trimble Forestry's The Connected Forest has developed a domain specific Wood Supply Execution (WSX) solution specifically for planning and executing the Woodflow process for log harvest and haulage operations. With almost 30 years of effort focused in forestry logistics, WSX is geared to support all stakeholders within the supply chain to do their jobs, track log production and inventories and schedule log haulage fleets for uplift and delivery to meet customer priorities.
WSX was initially designed around the New Zealand forestry operating model and is now deployed widely, including Australia, and Europe.
Trimble General Manager, David Joll, says the company focuses on enabling smarter decision-making at every step of the process, by combining industry-specialised software and appropriate hardware into solutions for land management, forest management and fibre management
"Like many supply chain systems, to be effective, they need to directly cater to industry requirements. Many logistics packages for general freight, long haul, courier and the like, while doing a great job for the industries they operate in, do poorly when attempts are made to apply them to forestry. We have seen this on several occasions and as a result our solutions are tailor-made for forestry and will continue to evolve with the industry.
Integration is key
One such evolution was the integration of WSX with, not only Trimble's other products, but also with relevant third parties within the forestry industry. Such integrations included weighbridges, scaling companies, log accounting systems, industry specific apps and forestry companies' own systems
OneFortyOne forestry management's Customer and Logistics Manager, Nigel Brabyn, says the company's use of Trimble products pre-dates Trimble's ownership of them!
"We were using Turbo Truck, the predecessor of WSX, when Trimble acquired Asset Forestry and subsequently upgraded to WSX. We had also already implemented what are now Trimble's geospatial land management and log accounting systems with a company called Cengea prior to its acquisition by Trimble in about 2011," he says.
"We chose WSX and its predecessor as, in our experience, they are the best product for the New Zealand log transport industry by far. The other products were added because of the ease of integration. Prior to their integration we had several separate applications that did not work well together and required a lot of manual intervention."
For example, he says, it used to take several days to prepare export documentation but after implementation and configuration of Trimble systems "it was a simple task that automatically compiled in a matter of hours".
Mr Brabyn says integration has been the key benefit from using these products. "Data moves between the applications with little or no human intervention and this saves time and prevents errors. The local presence and support in New Zealand makes them even better."
Most recently, there has been a systematic shift by customers away from paper dockets, adds Mr Joll. "Now approximately 20 million t/pa, of the 26 million /t/pa processed through WSX are managed as paperless transactions," he says.
Also in Trimble's product suite, the Log Inventory and Management System (LIMS) provides management control over all phases of timberland, woodland, yard and mill operations. It combines the features of a log or timber accounting system with features for silviculture, harvesting, contractor payables, wood or fibre procurement, wood trading or sales, yard or mill inventory, consumption, and comprehensive reporting and planning tools.
NZ Forest Managers (NZFM) is in the process of switching to Trimble's LIMS system. This is currently in the implementation phase.
The company's Production and Supply Support Specialist, Don McMurray explains: "When we did our log truck dispatching in-house we used WSX and its predecessor Turbo Truck. Due to the difficulty in maintaining trained dispatch staff to provide cover for leave, sickness and the like., it was decided to contract Trimble to provide the Central Dispatch Management Service (CDMS). This commenced on 1 July 2023."
In that time, Cyclone Gabrielle impacted, he says, adding that the target of completing the salvage of the windthrow by 30 June 2024 has led to harvesting and log cartage operations increasing nearly four-fold.
"Trimble has been able to call on trained dispatch staff from other regions where they operate CDMS for other clients."
Given the scale of the task, Trimble identified senior team members from other dispatch operations, as well as hiring key dispatch staff from NZFM, and set them up in Rotorua with the sole focus of managing the logistical challenges Gabrielle created.
"Working closely with NZFM to establish proven Central dispatch policies and practices, as well as opening up communication channels with everyone involved in the operation has been critical to achieving the targets to date. While the success to date can be measured in the sheer volume of logs harvested and delivered in the past months, all parties agree there is still plenty of work ahead of them," Mr Joll says.
A game changer
Asked how Trimble deals with the fact that many differing operating models exist within the timber haulage industry, Mr Joll says they can, in general, be separated into two main models - Harvest and Haul, in which planning and scheduling daily deliveries is part of the logging service, and; Central Dispatch, which involves daily deliveries being planned by a party other than the logger. Some supply operations may use a mixture or variant of the haulage models.
In general, key objectives for many users are the same, with the intention to improve on their current supply chain processes. These can be identified as:
- Visibility - Real-time visibility of the supply chain allowing for them and their stakeholders to make informed and timely decisions.
- Control - Management tools that allow for more effective control of the overall process and its individual parts.
- Maximise Value - Eliminate or minimise elements of the process that lead to suboptimal value recovery.
- Streamlined Data Management - Minimise overhead in managing data required for and derived from the log supply process, including third party integration and a paperless E-ticket solution.
- Proven Technology - A partner with specific domain focus, commitment to research and development.
Mr Joll says: "The connected forest solutions are designed to mitigate risk, optimise production, and increase efficiency and control to meet the needs of end-to-end forestry operations, as well as those of function-specific operators.
"For new markets, visibility is a game changer for forestry managers who have had to operate with old information reliant on a contractor's view. In a normal manufacturing environment, the production supervisor sits on the mezzanine level overlooking the production activity. Any variance in production, any bottleneck arising, any mechanical failure that causes downtime, can be addressed by a walk downstairs and onto the factory floor. In our environment that is not possible, so real time access to accurate data, with alerts and notifications bringing attention to issues has provided a significant quantum change."
He adds: "Either as a forest owner or log supplier to a mill, or as a transport provider to a forest/land owner, if you can deliver a better service, better value, more transparency, greater real-time and accurate data, when the client is looking for the go-to people to get the job done, your name sits at the top.
"I know that may seem a no-brainer and maybe a little simplistic, but we have seen it on many occasions where the cheapest folk don't win, because they cannot commit to a service level delivery, which is becoming increasingly important."