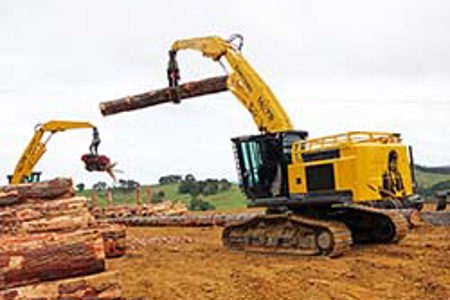 Lloyd Logging was among the first to take delivery of a new generation 40-series Sumitomo model in New Zealand. Weighing in at 37 tonnes, the 3740 loader is a 250-sized machine with a 300 base and an 11.68 metre reach. One of its stand-out features is fuel economy, as it appears to burn considerably less diesel than similar loaders.
For Buster Pieta, the Sumitomo 3740TLW is a real grin machine. He can't stop grinning when he's operating it. And he is definitely not the only one at Lloyd Logging who is deeply impressed by it.
In recent years, Lloyd Logging has grown to 24 employees working across four crews with ongoing, sustainable work when some others have been forced to move away from Northland to allow the big corporate-owned forests to reach harvesting age again.
The manual breaker-out pole team we visited for our Iron Test is in a Fortuna-owned forest west of Kaitaia and has a target of seven loads a day. Lloyd Logging has been in this block harvesting since the start of 2021 and will probably be finished near the end of this year.
As a simple loader, the new Sumitomo 3740TLW proves highly capable. It will be interesting to see how this capability extends to the rest of the 40-series range that is now starting to go to work in forests around New Zealand.
To find out how the test went get your copy of the June 2022 issue of NZ Logger magazine, on sale from 30 May. Click the link on this page to subscribe to either a printed or digital copy (or both).