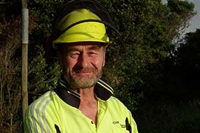 The first thing we notice about Mangoihe Logging's operation is lots of big new gear moving around good stockpiles of logs. The second thing is the minimal impact on the environment, with a notable lack of soil disturbance and soil exposure in the cutover. The scene is one of efficiency and organisation, where state-of-the-art machinery seamlessly navigates through neatly arranged log stockpiles.
It's a good advertisement for the industry, challenging traditional perceptions of forestry, particularly being right beside State Highway 1 north of Hunterville, with thousands of travellers passing through potholes on this highway every day.
The block has ponds and power lines running through it too, so it has a stack of challenges. Given the amount of rain and the sticky mud underfoot, it's just as well they have a new Harvestline to yard most of their wood.
"The skidder would really struggle out there," says Mangoihe owner, Bryan McCarthy, as we make our way up to the machine. A T-Bar mobile tailhold is off to our right tucked in just in front of the powerlines. Also, to our right is a tethered Tigercat felling machine and another skid, one of three that the processor is working on. Two skids are downhill-logged with a six-wheel Tigercat 635H skidder while the skid we have parked at is two-staged, going from the Harvestline and then maybe a 130-metre drag down and around the ridge top with the skidder to a place where things widen out to allow processing, fleeting, sorting, stacking and loading out.
Throwing open all the doors on this Harvestline it's good to see an auxiliary oil cooler with electric fans has been added to keep the hydraulic oil temperature below 70°C, and as this is on a Sany base which we are seeing a lot of lately, we are seeing the same large volume of room in all of the bays for storage and air circulation as well as servicing filters and the like. It sounds pretty grunty and is run by a 344 horsepower Isuzu engine with a decent 800LPM of hydraulic flow from the pumps.
Iron Tester, John Reid, discusses with Bryan some local crew quotas of 60% and full shutdowns of others, and the response from Bryan is very interesting...
Securing stability and success
"We are fortunate enough to have signed a long-term contract with the forest owner," says Bryan. The commitment of a long-term contract has brought a renewed sense of security to Bryan, his wife Livvy, and their logging business. This contractual agreement guarantees a steady harvesting volume per year, providing stability for not only their dedicated staff but also their families for the foreseeable future.
"We spent about eight years' operating within the woodlot structure before transitioning to a corporate contract. Times have certainly changed, and the landscape demands a different approach now. The contract means a guaranteed volume, otherwise there's no way you'd put this amount of gear into it, you'd be mad."
It's plain to see he is quite a happy and relaxed bloke as he laughs...