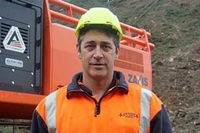 Times have been tough for KFT Logging after crew boss, William 'Hoot' Knowles, died suddenly during a wood chopping tournament in Australia two years ago.
But they're a resilient lot over in Gisborne. Instead of selling up, Hoot's wife Sharon was determined to keep the crew going and, together with eldest son, Steven, and a core of loyal employees, they got things back on track.
It's not been easy. Sharon had to sell some of their best gear, including a levelling harvester and key road building equipment, to keep the business afloat, since they weren't able to hang onto their road lining contract. And then COVID hit.
"It was really tough but we didn't want to lose what we'd worked so hard to create," says Sharon.
The turning point came when son Steven, who had been running his own small forestry operation, pitched in to help. Through his connections with Logic Forest Solutions they secured a contract to harvest an 8,000-hectare woodlot behind Wairoa, an hour-and-a-half south of Gisborne, putting the team and their remaining equipment back to work.
It's here that NZ Logger met up with Sharon and the KFT crew to celebrate a milestone in the revitalisation of the business – the arrival of their brand new Hitachi ZX290L-5G loader/shoveller.
The purchase marks what has been a fairly rapid revival, as KFT only started work on this site last December and the new Hitachi was delivered just five months later.
Sharon explains that once they got into the job they realised the Hitachi ZX330 that is now doing the job of harvesting on the hill was too busy to do the shovelling as well – a task it was previously doing when the crew had a John Deere levelling harvester.
"We definitely needed a shoveller and I discussed it with mum," says Steven. "We did look at second-hand but thought 'bugger it, there's not much in it, we'll just get a new one, better reliability'. We just wanted something simple. And these are partly set up for the forest and come with solid bits on them."
Although other brands were considered, the Hitachi decision made sense, based on their positive experience with previous and existing tracked equipment from the Japanese manufacturer, which also happens to own CablePrice.
With the well-publicised changes in the CablePrice stable, there's plenty of incentive for Hitachi to step up in the forestry segment in New Zealand.
Hitachi has always had a strong presence in the local construction sector as well as a long history in the forestry industry in New Zealand, with the development of 30-tonne excavator base UH09 and UH053 feller bunchers in the late 1970s.
The changes of the past 18 months have seen CablePrice refocus on the Hitachi ZXL-5G to spearhead the forestry range, boasting a number of factory-supplied features, such as high-and-wide undercarriages, heavy-duty track frames, reinforced booms and uprated performance.
The 5-series first appeared in New Zealand back in 2012 and it's largely been unchanged over that time apart from some minor upgrades, but CablePrice wants loggers to know that there...