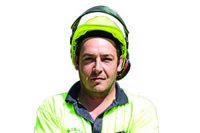 Towering over the south Waikato village of Atiamuri,the mountain that Knight Logging is harvesting is proving a bit tough. The skyline is about a metre off the ground before any chokers are hooked up to logs and there's a couple of truckloads of stems to be dragged off this spot and around the hill to the landing.
In a classic case of 'when the going gets tough, the tough get going', Knight Logging owner, Zane Knight, is breaking out by himself today down the hill while his crew are all in machines processing, loading out or, in the case of Johnson Peri, shovelling stems to his boss while tethered to the new Ecoforst T-WINCH 30.2 which is up above us in the standing trees.
"It's one of the best investments I've made, buying the T-WINCH," Zane says as he takes a short break for lunch. "When I was looking into the T-WINCH I was almost sold on the idea when Ian Wilton, FORCO Managing Director, said, 'look, why don't we take you to Melbourne where there's three of them working and we'll show you'.
"So, we went to Melbourne and on the first job we visited, where they were running a Madill 124, I stood on the hill and saw a T-WINCH 30.2 pulling a Tigercat 822 feller buncher and the smaller model T-WINCH 10.2 hooked up to their excavator tail hold machine over the hill on similar sort of slopes to what we have here. The tail hold machine walked backwards, up over a stump, no problems. Then the operator on the 822 came up over a rock face and they slid a little bit and I thought, 'nah he's not going to make it', but he just poured on the power and up it went.
"On the next job we visited, we saw this guy Conrad… he was on a 548 Cat, flat cab, with a root rake on. He was on a steep slope raking the eucalyptus in front of him in a flat cab! He went up to the road, over the road, up the batter and over the top and went back down for another slice. Really impressive stuff.
"Our operator, Johnson, has been up and down this track here eight or 10 times and it's only just got a little bit of a muddy furrow now, so it makes a huge difference to the footprint on the land. That winch is holding him in place constantly and pulling him when required so he is only getting the cleat marks in there because this machine is that much quicker than the old one. The faster reaction time means a much lighter footprint." And that translates to less environmental damage, and topsoil staying on the hill where it can grow trees.
The ease of connecting and using the T-WINCH and its associated added safety is also something Zane likes a lot, and is something he is encouraging even on moderate ground after a recent rollover of the Tigercat 855.
"We made no...