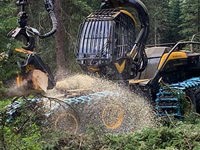 There are no skidders or tracked feller bunchers within the 20-piece logging fleet owned by Prince George, B.C.-based Freya Logging. The fleet consists primarily of wheeled harvesters and forwarders – and that's by design.
Company forester, Liam Parfitt, describes the majority of the company's harvesting activity as "selective logging where most of the merchantable wood is removed". Overall, Freya Logging leaves more standing structure and understorey in the forest while creating less ground disturbance compared to conventional clearcut logging using feller bunchers and skidders – and what they are doing has lately caught the attention of other loggers and several forest companies.
Their fleet and logging method is without a doubt an alternative approach and could rightly be described as following the European model. However, the question for Canadian loggers has always been economics. Mr Parfitt says that they are competitive with conventional logging.
"We can compete with conventional logging on a clearcut and we can do it cheaper than they can on selective logging," he says.
What could be driving this recent interest in Freya Logging's approach is the issue of 'social license' becoming more prominent within forest management circles, where governments and timber license holders are demanding a more careful logging style to earn benefits, such as maintaining habitat and biodiversity – something New Zealand is hyper-aware of since the recent extreme weather events. Greater uptake of this style of logging remains to be seen, although Freya Logging is finding no lack of work these days.
"The ethics of forestry are changing and we have more values to consider now," says Mr Parfitt. "I think that we at Freya Logging are at that point where we are realising the value of what we are doing, and we have been rewarded for that.
Deep roots
Freya Logging definitely has deep European roots. It is partly owned by Mr Parfitt and his Swedish wife, Sofia. Another share is owned by Claudia and Olaf Weber. The Webers moved to Canada from Germany about 10 years ago. Olaf, a trained mechanic, was the company's service supervisor until his recent retirement. The majority of the company is now owned by Mirko and Suzanne Jansen who recently re-located to Canada from Switzerland. Jansen is the company's General Manager and holds a four-year logging diploma. Also, about half of their equipment operators come from Europe.
Mr Parfitt, who has a forestry degree from the University of Northern British Columbia (UNBC), says having spent time in Sweden with his wife, he noted the difference between how logging was managed in B.C. – despite the goals stated on paper – versus how it was being managed in Sweden, where he felt that logging was being implemented properly. It definitely influenced his attitude when he and his family returned to Canada, he says.
"What I saw in Sweden was that there was a technological difference between how they log there compared to here, and many times technology drives the logging approach more than anything else," he says.
When...