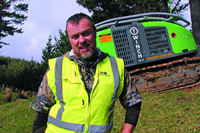 Most people probably think the stand-out feature of the Ecoforst T-WINCH tethering machine is that it doesn't have a cab.
Makes perfect sense really. There's no need for anyone to be in the cab of a winch-assist machine that spends all day working remotely at the top of the hill tethering a harvester on the rope below, so why not skip it?
Okay, not having a cab does rule out the ability to make use of the machine as a digger or loader when it's not on tethering duties, but how many are actually employed outside their normal winch-assisting role? Not many.
Putting the absence of a cab aside, the really smart thing about the T-WINCH is in its versatility and how it can improve extraction.
New Zealand pioneered the development of winch-assist technology that is built onto an existing excavator base in order to get people with chainsaws off the ground. If there's a production benefit, all well and good.
The Austrian-made T-WINCH comes from a different angle and takes a typically European approach. That is to design and build a machine from the ground up especially for the job in hand, rather than adapting an existing piece of equipment that was designed for another task. The T-WINCH is built primarily to move wood.
The first T-WINCH in New Zealand has been working for two years now, though it has eluded NZ Logger to date. Three more have now been delivered and we've managed to hook up with one that's recently landed, working north of Auckland. Owner, Rob Leslie, has been running his felling machine, shoveller and skidder on the tether, with plans to hitch up his forwarder on the next job.
Like all T-WINCH machines currently in New Zealand, this one is the 10-tonne 10.2 model, which may seem a bit light to Kiwi contractors used to their winch-assist anchoring machine weighing in excess of 30 tonnes. The manufacturer of the T-WINCH, Ecoforst, also builds the most powerful winch-assist machine on the market, a 305kW (414hp) 33-tonne model called the 30.2, so they know all about big power and when it's required. The 10-tonne model has been designed to be smaller and more nimble and we were keen to gauge what the much smaller 10.2 is actually capable of.
Let's get one thing out of the way first. Light does not mean less capable.
In our test, the T-WINCH 10.2 never put a foot wrong. The key to using it successfully is to put it on the right terrain and work to its strengths.
Rob Leslie is the first to admit that the 10.2 may not be the first choice for full-time felling work in the steepest terrain hauler crews. It's not designed for that. But it works bloody well in ground-based operations that need to harvest and recover wood from steeper blocks.
"You'll never see a woodlot that doesn't have some steep stuff in it – farmers don't plant on the flat, do they?" asks Rob. "So the T-WINCH means we can harvest and recover wood from those...