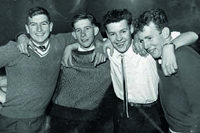 Ross Lockyer spent his working life living and working in the forestry and logging industry in remote locations of South-East Asia and the Pacific, including Papua New Guinea, Irian Jaya/West Papua, Borneo, Sumatra, Burma, Thailand, The Philippines, Kiribati and others.
With a gung-ho approach to life, Ross threw himself into his work and immersed himself in the local cultures and communities wherever he went, learning the languages and customs that helped him fit in and do his job. He had many hair-raising adventures and close scrapes, and encountered many amazing people wherever he went. He now enjoys sharing those stories with others.
The following is an excerpt from Ross's first book (of five), An Accidental Bushman set in the early 1960s, recounting his early career as a Forest Ranger in New Zealand.
Gwavas Forest is situated over 60 kilometres from Waipawa in Hawkes Bay, covering much of the Wakarara Range and bordering the Ruahines. Al Johnson and I were transferred together from Te Wera Forest in North Taranaki, where we had been stationed for the first six months out of our Ranger School induction course, and were joined by Bob Crook and Dave Cameron, who had transferred from Ngaumu Forest in the Wairarapa.
Gwavas was a completely different forest to Te Wera; different terrain, different soils, different planting systems, and there were deer in the forest itself and out the back in the Wakarara and Ruahine Ranges, which bordered the forest. This was my first experience of living in deer country, as there were no deer in Taranaki at that time, although we did shoot hundreds of goats and plenty of pigs. I was very keen to get out into the bush on the weekends to go hunting and to shoot my first deer.
Ranger trainees rated all forests first and foremost on the quantity and quality of the food provided by the cookhouse. The cookhouse at Gwavas was very good, and the cook was a lot more adventurous with the menu than old Don had been at Te Wera camp.
As it was winter, we were straight into planting. We were planting Radiata pine, mainly at Duff Flat over the back of the Wakarara Ranges. The planting was primarily done by contractors working a Lowther planter, which was a relatively new invention for use in flat to easy country only, and it was towed by a small bulldozer.
Al, Dave, Bob and I mainly hand-planted seedlings with mattocks in the rough and steep areas that the Lowther couldn't access. These smaller areas were many and varied, and the system of planting was rather simpler than at Te Wera. At Gwavas, we used the one-hit method of planting, which was very fast, and we could usually plant between 1,500 and 1,700 trees per man per day.
Before I left Taranaki, I had sold my motorbike, so not having my own set of wheels, I had to make do with whatever I could borrow. Andy was one of the labourers at Gwavas, and he had an old...