IN THIS PICTORIAL, PAUL MAHONEY, historian for DOC with a passion for our industry, takes us back to view the lives of the Kauri bushmen of the Kauaeranga from 1918-1928; revisiting his own journey of discovery of this fascinating piece of New Zealand logging history. [*Photos are directly related to the Kauaeranga unless marked with a star. These others are deemed suitable to illustrate activities in the Kauaeranga.]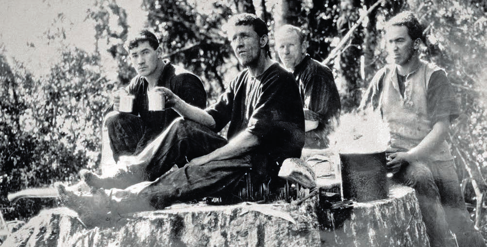 Scene is set:
High up in the Coromandel Ranges behind Thames, from 1919 to 1928, the Kauri Timber Company, called the KTC, runs NZs last large-scale Kauri logging operation. The forest in the Kauaeranga Valley behind Thames has an estimated volume of two million cubic metres. This forest has survived until now because of the difficulty of log transport. The KTC is forced to build a costly bush tramway because the downstream land owners oppose the KTC application to float the logs out in 'log drives
Kauri bushman
By the 1920s the Kauri bushmen have gained a legendary status in the NZ industry. Each day they apply their own brute force to harvest some of the world's largest logs, equivalent to the mighty Redwoods. Skidding and log transport is mechanised elsewhere in NZ, but this modern steam gear is not suited to precipitous Kauri country like the Kauaeranga. Lunch smoko is in progress on this big stump. Two of these men are fellers, two are headers (log makers). No one is following along behind planting young Kauri, so this extraordinary harvest is a one-off.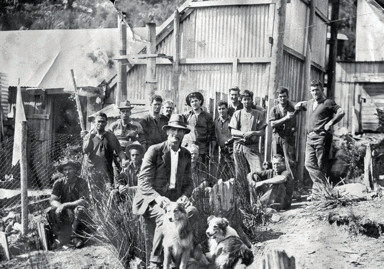 George Murray contractor
George Murray, in the foreground, is one of several contractors working Kauaeranga bush areas concurrently. The men live in camps close to their felling area. They work six days a week for six months before taking a break. A key member is the cook who works from 4am to 9pm. Hearty tasty meals are a necessity to sustain the daily workload. Food cooking and clothes drying take place in the enormous chimney in the background.*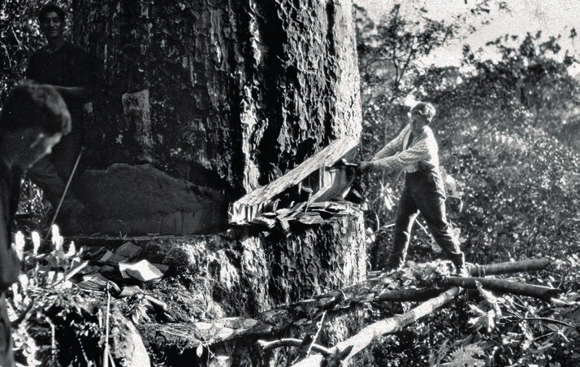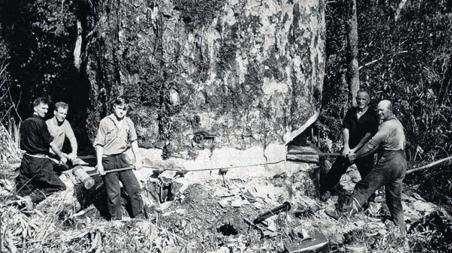 Axeman skills
The Kauaeranga Kauri grow on steep slopes and here (right) a platform is constructed to support the axeman cutting the scarf from the downhill side. This scarf is being oriented to precisely direct the fall of the tree towards a creek. It is being cut extra deep to enable the saw to...