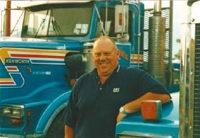 Alan Forbes is a name synonymous with the forestry industry. Not only did this forestry legend grow a large and successful log transport business from humble beginnings, but he was also there when the Log Transport Safety Council (LTSC) was formed and continues to 'learn' with the Tour of Learning (TOL) group.
As with many transport operators, Alan developed a keen interest in trucks through his father. As a young fella, he used to go to work with his dad, going out with the trucks and helping with the material handling.
"I just liked machinery and trucks so I used to go work with him on a Saturday, and that kindled the interest," says Alan.
Alan's father was transferred from Whakatane to Kinleith Mill and was managing the workshops, so Alan got an apprenticeship at the mill and did his time there. But it was the work with their trucks that really piqued his interest.
"I served my time at New Zealand Forest Products in Kinleith, in the Tokoroa workshops. They had a fleet of logging trucks there, and that sort of got me going."
Finishing his apprenticeship, Alan got a job at what was then known as Alexander Grain and worked for John Alexander for the subsequent 12 months in the workshop. He ended up doing quite a bit of driving there too.
"That's what started me off," he says.
From there he went back to Tokoroa and started driving for Forest Products, in a company truck.
"After 12 months they offered me a position as a contractor on a self-loading truck. It had a crane on the back and I had to load myself and away we went. That was 1979."
First starts
Alan's first truck was a K124 cabover Kenworth. It was only a six-wheeler, but Alan says it was all off-highway work that he was doing. The K124 was brand new too, which in many ways was a big punt, and its purchase is something that Alan recalls vividly.
"I remember my accountant having an argument with one of the forestry distribution managers at Kinleith. The distribution manager wanted me to buy a TM Bedford but my accountant told him, 'if this young fella [me] goes broke, I want a truck that he can sell'."
Alan says this was back in the days when you couldn't cart against the rail, so he had to apply for an area licence, and go to court to show it was financially viable.
"I hadn't been going that long when they opened everything up. So it's a bit of a breeze nowadays."
As it turned out, Alan had only been in business a few months when in 1980 there was a big strike at Kinleith. He says it was a tough time and when it was over he essentially had to start again.
"But there's always been something like that… you think you're getting on top of things and something happens out of the blue and the money all goes. But that's trucking I guess," he reflects, saying log transport in particular has both...