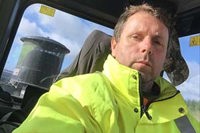 Venturing into the Dart Valley West of Nelson with Willie Waldron of C&W Logging, to test the Sany SY330H excavator running a Duxson grapple, is quite an experience. These guys often need to use helicopters to shift ropes, have had to lower breaker outs down hills on ropes and they are frequently attacked by ferocious sandflies. She's all on.
"Growing up in Hanmer there were a few young mates in the logging game," Willie says. "I started out farming and most of that was either cutting firewood or grubbing thistles for about a hundred dollars a week. I figured out I had a bit of a bug for chainsaws and it was all pretty cool. I applied for a job as a tree faller even though I didn't know how to fell trees.
"I tried out for a day and the guy could see I didn't really know the finer points of the job but he gave me the job anyway as he could see I was keen and hard working.
"Three months later I moved to Nelson to go to a forestry course at Polytech and then worked for Zeke Bellis and then for Nigel Kelly at Kelly Logging for 13 years, running haulers and other gear. I used to run Nigel's TMY90 and man that thing could pull, just a beast of a machine.
"I then teamed up with a mate to go logging in the private sector and that went good. We had a little old 210 Volvo, a hired loader, hired Bell and a Timberjack 450 skidder. It just started snowballing until there was a price crash and then Nelson Forests heard we were out of work so they found some work for us and took us on.
"We've got seven of us on the job up here in the Dart running a TMY70 which we bought from Shaw's out of the Gisborne area and had rebuilt by Waimea Engineering in Richmond. We are also trialling a Falcon Tandem carriage prototype right now, which is pretty cool."
A call comes through on Willie's phone. A friend wants to know if he has any work for a young bloke who has just been laid off another crew due to the downturn. Willie advises that people are lining up and he has committed to one new guy already.
Navigating the downturn
So how is C&W Logging coping with the downturn?
"We've actually been on day rate for the last three years. We are what's termed as a clean-up crew. There is quite a lot of challenging ground in this area that people have walked away from two or three times. We've had a look at it and said it's hard but it can be done. We've done stuff like that before but what we learnt from it is, it's not going to be cheap," says Willie.
"Quite a bit of this is minor species like Douglas fir but there is radiata in there too. They want it gone so they can get it all back in to...