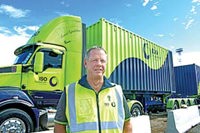 In the good old days loading ships was done with a lot of labour. Crated goods were loaded into cargo nets which the ships' cranes then hauled aboard. Stevedores then manually stacked them in the hold.
Of course, containerisation transformed much of the business of shipping, and of shipside handling operations. However, if you watch logs being loaded at most ports around the world it won't look much different to the old-style cargo net process, except they are loading logs rather than boxes.
Logs still arrive at the ship's side by loader or on a trailer. The ship's crane lowers strops which are manually wrapped around the logs and the crane hauls them aboard. On the ship they are unhooked, then the stevedoring crew on deck uses small diggers with log grapples to line them up neatly in the hold or up against stanchions lining the ships deck, stacking the load height 12 to 15 metres above deck level.
Having to attach strops around logs every few minutes is hard physical work, not to mention hazardous. Releasing the strops, which could easily be under tension, can be even more hazardous, even if the closest workers are reasonably well protected in a machine cab.
While some log loading operators still use this process, ISO has revolutionised the log loading process for its customers at Tauranga and Gisborne ports, so that it now takes some 50% fewer people and less time to load the ship and send it on its way.
ISO was founded in 1995 as a stevedoring company, which fundamentally is the process of loading or unloading ships. Since then, the company has diversified into other businesses where it has seen opportunities to add value for customers. More often though, it needed to ramp up efficiency in these other operations to keep up with its ability to load ships. It is now a multi-faceted logistics company focused on port operations.
The company handles around 60% of New Zealand's export log trade. It loads over 500 log vessels a year, around 11 vessels a week. While logs – more than 25 million of them a year – feature prominently, ISO also handles a large portion of New Zealand's kiwifruit exports, around 25% of the country's pulp exports as well as container, breakbulk and all manner of other import and export operations.
Safety-driven
A phrase like "It's the way we've always done it," stands as an open challenge to ISO whose track record of innovation shows it to be pretty relentless in finding safer, smarter and faster ways of doing things. That is better for the customers, it is clearly paying off in winning market share but, especially as it is safer, it also benefits staff.
ISO's business development manager, Neil Weber, says that the issue of safety drove one of the innovations he introduced when he joined the company in 2014. In 2013 ISO won its first big contract in Tauranga for marshalling 2.5 million tonnes a year of logs – basically compiling ship loads of logs. It had started...