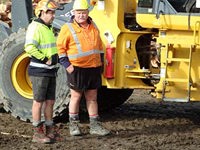 Remember that time your boss decided he was going to make your work conditions a lot better? That's what happened to Napi (pronounced Nar-Pea) Martin running the new-to-New Zealand John Deere 624P wheel loader for Mark Lealand of Ngongotaha-based Lealand Logging.
For operator Napi, growing up in the remote and iconic logging village of Minginui and starting out on the ground in planting and pruning crews in neighbouring Whirinaki Forest, he got used to handling rough conditions and hard work. There was plenty of jamming spades into the ground where seriously hard rock is rarely far from the surface (picture Skid 15 Road for those who know the area) and climbing trees in steep and slippery terrain. But as we get older those hard yards catch up and it is appreciated when a job and its conditions get easier, quieter and more comfortable.
That is part of what inspired Mark Lealand to seek out the smoother running and roomier cab of the 624P and bring the first one in from Davenport, Iowa, USA via Terry Duncan of AgrowQuip, Rotorua. Mark could see he had a real asset in Napi with his advanced skill levels at the controls and his dedication to the job and was looking for ways to reward that dedication and experience.
And the rewards of the 624P are many. Taking the entire air con box out of the cab and mounting it low down out of the way on the cab exterior is the biggest innovation, allowing the operator's seat to shift right back so operators can stretch out their legs (a good drawcard to keep your operators in the seat as long as possible).
A close second in the innovation department is soft hydraulic stops so the operator gets less feedback from the machine, something operators have been wanting for decades (even though some of them are too tough to admit it), but more on how that works later.
Third must be John Deere's Quad Cool system which is a pure stroke of genius for keeping the machine temperature at a sustainable level. Although Quad Cool isn't brand new it hasn't had a lot of coverage given that it is such an important feature for machine longevity, operator comfort and cleaner air for operators. Cool oil, cool hoses and cool engines equal cleaner air in the operator's seat.
The NZ Logger Iron Test team joined Napi and the Lealand 040 crew at a gently sloping compartment about five minutes' drive south of the Murupara log rail yard in the Timberlands-managed Kaingaroa Forest.
Here 100 tonne per pay load doubles cart out about ten times a day on average, although according to foreman, Jim Blackburn, "There isn't really a consistent pattern… sometimes nothing for a day or two then they all come pouring in, but it's never an issue, there is plenty of room."
Has Jim been on the new John Deere wheel loader? "Just this morning to bring it down to the container for waterblasting for you guys. Heaps quieter than the old one...