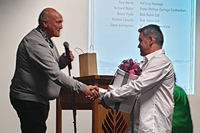 With 150 years of driving log trucks between them, six exceptional drivers were recently honoured for seventeen years each without an insurance claim incident, by the Log Haulage Contractors Association (LHCA).
Why seventeen years? "The Incident-free Awards came about with the help of our insurance brokers to recognise the excellent work our drivers do in the log truck industry," says LHCA President, Graham Sheldrake. "It was part of the Safe Driving Scheme which was established seventeen years ago in 2004, getting our claims records refined to indicate which drivers were achieving very low incident claims. We started by awarding certificates to the drivers that had an incident-free year from July to June each year. We now have drivers in our group that have achieved seventeen years incident-free, so for each year of achievement they receive the recognition with a gift and a year-certificate."
The LHCA was started thirty years ago by a group of log truck operators that contracted to New Zealand Forest Products (NZFP) based in the Kinleith forest, says Graham. "With the move away from company trucks to owner drivers, the LHCA was formed to give the 80 or so contractors a voice in terms of rate negotiations and health and safety in the forests at Kinleith, and help them become good, profitable operators. We negotiated with fuel companies for supply and with insurance companies for cover of the members' trucks. We still do this today."
Every driver that belongs to the LHCA and has their truck insured within the Association's package is eligible for the incident-free awards. NZ Logger chatted to this year's recipients and their employers about their service, their history and their love for the open road.
JOHN NUKU
John Nuku caught the log truck bug when he was made unemployed from a job in industrial water blasting: "I had friends and family working as log truck drivers and they gave me the bug."
With 21 years of driving under his belt, for him the best bits are "being outdoors, the scenery changing every day and the comradery of the other drivers I work with, stability of employment and the people in the industry".
As to his dislikes, bad weather and "idiotic driving" from other members of the public top the list.
John says conditions of driving off-highway and some of the terrain is challenging. The reward though, is twofold – getting to go to some parts of the country that you can only see as a log truck driver and being able to go home every night.
He cites patience, steadiness and concentration while driving onall road types, as well as going to bed early, as essential abilities for a log truck driver.
Getting this award "feels pretty bloody good" says John who sees his future as "unchanged...