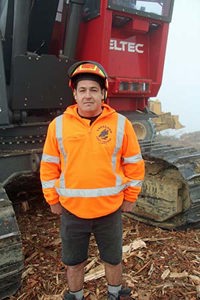 Question: When is a log loader, not a log loader?
Answer: When it's a processor.
That appears to be the case with the Eltec 317LL because it was originally designated as a log loader in the company's model line-up and yet contractors in New Zealand have decided that it works better for them as a processor.
No matter. It works damn well as a processor too, judging by the most recent 317 to go into the forest, which is working with Tohaia Forestry Harvesting in the Maramarua Forest, in northern Waikato.
This machine is the perfect example of how modern technology enables forestry equipment manufacturers to build off a common platform that can be easily tailored to suit a specific task.
All the Eltec models use the same basic formula of identical superstructure, engine, hydraulics, electrics and so on. To make a specific model Eltec just bolts on, or swaps around, bits that are required for the designated task. It's a real modular marvel.
In the case of the 317 recently purchased by Tohaia, the standard base is complemented by a tall rear-entry cab and an extra-high capacity pump to run the processor. Without that pump it would just be a log loader. Swap the tall cab for a low cab and retain the dedicated implement pump and it would be a harvester. Replace the standard base with a tilter and you've got a steep slope harvester.
There's nothing new in that approach. All the major manufacturers use a similar recipe when developing and building their forestry machines. It just seems that Eltec has refined the recipe to its simplest form.
"All the machines are pretty much identical, same engines, controls, pumps – it just comes down to the shape of the chassis and what configuration you want," confirms Jonny Edwards, Eltec Manager for the New Zealand market.
"This makes it much easier when choosing a machine because it simplifies everything."
And it means that parts are common across all the models, so there's less need to carry a variety of spares if you have more than one Eltec in the fleet. Parts availability is not an issue either, with all the running componentry able to be purchased off-the-shelf from suppliers around the country, with Shaw's Wire Ropes holding a huge amount of parts in stock as well.
The only downside? You can't rock up to the Cambridge showroom and buy one off the floor to go into the forest tomorrow. They're all sold out until the end of the year and Jonny is now taking orders into 2022.
Things have been going well for Eltec since the brand was first introduced to New Zealand mid-way through 2018, with machine number 20 recently delivered to Nelson, the second to go into the South Island. Most have been sold as harvesters, with three machines spec'd for processing – this one in Maramarua being one of those.
"There's lots of interest, but we're still restricted to one a month and truthfully, we don't want any more than one a month at the moment – we...