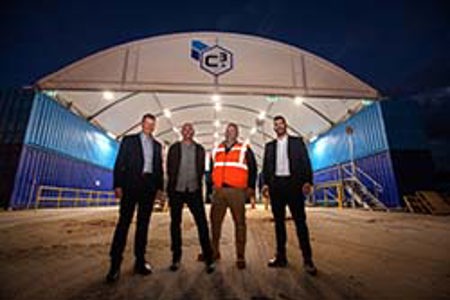 C3 Limited, part of LINX Cargo Care Group, has officially opened its new checkpoint facility at Port Nelson in the South Island. It is a complete upgrade of the original site that had been used for more than 25 years and was no longer fit for purpose.
The new facility spans more than 1,000 square metres and features three covered checkpoint lanes with new AS/NZS 1657 compliant scaling ramps for fall from height protection, a workshop, checkpoint office, staff facilities and a main office.
It is equipped with C3's COM3TS technology which enables the efficient processing of more than one million JASm3 (Japanese Agricultural Standard) of logs the facility currently handles, with the capability to scale up its capacity in line with any rise in demand in the future.
C3 Limited and Pedersen Group COO, Gavin Hudson, says the design of the new facility had to not only meet strict planning guidelines and standards – particularly around earthquake resistance – but also look to the future in terms of handling increasing capacities while providing employees with a safer work environment.
"We have around 70 people working at this site, all of whom play a crucial role in keeping our customers' export logs moving. This new checkpoint and its great facilities will go a long way in helping C3 to continue to safely deliver an uninterrupted and efficient service for our customers," he says.