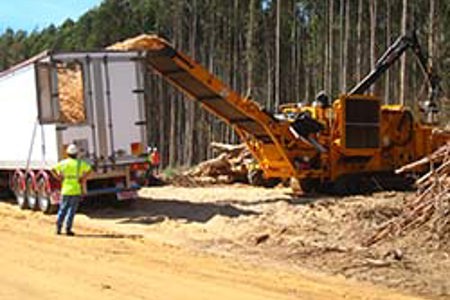 Forest-based biofuels are occupying an increasingly important role in New Zealand's energy supply. Conversions of large scale industrial heat plants to renewables, including biomass is ensuring that local forest owners and wood harvesting operations are starting to sit up and really take notice. The market and demand, already there, are increasing and the economics are starting to stack up.
Aggregating bio-fuel supplies regionally to ensure a reliable and consistent supply to these large end users is now being assessed. How best to extract or harvest logging residues and procedures that can be used to store, dry, handle and transport these residues or chips are also being trialled and used out in the field operationally. Chipping or grinding at the landing or skid site, chipping at a centralised processing site inside the forest, outside the forest or at a customer's operation and extracting and delivering loose or bundled logging residues, all require specialised equipment.
As part of the spotlight being put on the opportunities opening up to the forestry industry in better utilising forest residues, bin wood, offcuts that until now have been left on landings, short length or malformed logs that won't meet MDF, pulp-mill or chip export log specifications, a workshop on in-field chipping innovations has been set up for those attending next year's Residues to Revenues 2022 (R2R) event.
The workshop will cover new and emerging technologies for processing forest slash, logging residues and stump wood. An informative 90-minute showcase (including equipment that's being brought to the venue for display) featuring major equipment suppliers from around the world has been set up for R2R delegates.
Workshop presenters include:
Scott Smith, President, Billy Daniels, VP of Engineering and Steve Briscoe, ProGrind Sales Manager, Precision Husky, USA;
Brian Gray, Group VP Sales Construction Machinery Solutions Group, Peterson (Astec Group), USA;
Travis Tschumy, Morbark Sales and Dean Pritchard, National Sales Manager, Stevens Group, NZ; and
George Wilcox, Sales and Marketing Director, CBI and Ecotec, Terex brands, USA.
In addition to a global look into some of this new technology, operational experiences and learnings from some of the country's pioneers in extracting biofuel from forest operations will be explored as part of the conference that will follow.
Full details on the workshops and planned R2R event that runs in Rotorua, New Zealand on 9-10 March 2022 can be found on the event website: www.woodresidues.events.