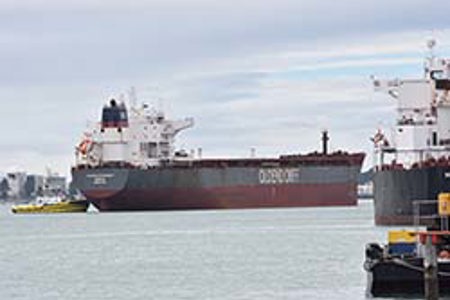 New loading and logistics have been completed at the Port of Tauranga this week for the largest ship to carry export logs out of New Zealand.
The MV Conrad Oldendorff is a 229m-long post-Panamax category bulk carrier which docked at Mt Maunganui on November 5 and departed today.
It's the largest ship to be loaded with logs at a New Zealand port and with approximately 60,000 JAS cubic metres (Japanese Agricultural Standard) aboard destined for China it's also the largest single log shipment from a New Zealand port.
The visit from the MV Conrad Oldendorff (originally planned for sister ship Clemens Oldendorff) introduced a new and more efficient log-loading procedure.
The dry bulk carrier is a gearless vessel (it doesn't have its own cranes aboard) and the ship also carried all of its log cargo below deck level rather than stacked above deck level in the typical fashion of log carriers. As a result, carrying twice the volume of a conventional logger underdeck, the ship will not require any Methyl Bromide fumigation.
It's a spot shipment operated by South Pacific Shipping (SPS) and Oldendorff Carriers in a deal brokered by Braemar ACM's Bruce McFarlane, a Mount Maunganui local. More are expected in the future.
ISO Stevedoring used two of its new Liebherr LHM 550 mobile harbour cranes (MHC) to load the ship.
Verne Taniwha, general manager, log marshalling and stevedoring for ISO, says it's a more efficient loading process.
"It's more efficient as there is no reliance on, at times unreliable, vessel cranes,'' says Mr Taniwha. "There are also less people needed to load with our MHC's."
Braemar also negotiated the deal with ISO Stevedoring that delivered the mobile cranes from the manufacturer in Germany, to the port of Tauranga last year.
"We saw an opportunity to bring together two major players from the logs trade and dry bulk shipping to create new economies of scale through the utilisation of the new mobile shore cranes and larger vessels at Tauranga," says Mr McFarlane.