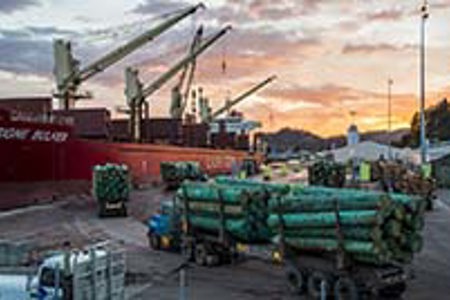 Eastland Port is seeing the biggest build-up of log ships in decades. Earlier this month there were 14 ships either in port or at anchor with idle ships costing owners some $35,000 a day. One ship was at anchor as far up as Whangara.
This comes after a backlog of exports caused by heavy swells and poor weather, as well as restricted access to the export berth during wharf repairs through June.
Additional factors involved in the backlog included bulk freight being knocked out of kilter worldwide by the coronavirus pandemic's impact on supply chains, and logging companies ordering surplus capacity.
Eastland Group Chief Operating Officer, Andrew Gaddum, described it as the biggest build-up of ships at anchor off Gisborne since World War 1 when coastal shipping was at its peak.
Exports were resumed after the heavy swells subsided and ships are being brought in and docked to start loading but the situation remains changeable.
"The forestry industry is working to find practical solutions for the increasing demand on a single log berth," says Mr Gaddum.
"As a group we have implemented some processes and we will continue to collaborate on more initiatives and efficiencies to ease the pressure on the forestry industry.
"This situation also highlights the importance of the Twin Berth Project, which will help future-proof the port.
"It will allow two logging ships to berth at once, making operations twice as efficient."
Demand for logs from China has been running hot and the port was on track for the biggest year in its history, Mr Gaddum says.
Meanwhile, increasingly unreliable shipping schedules and a lack of refrigerated containers are causing issues for the export industry in Hawke's Bay with about 40 container ships missing their scheduled calls at Napier Port during the past eight months.
A Ministry of Primary Industries report released last month said forestry export revenue was forecast to reach $6.3 billion nationally in the year ending June 2021, an increase of 12.8% from 2019-20 when the forestry sector was prevented from operating during Level 4 lockdowns.
Harvest volumes are set to reach 36.5 million cubic metres in 2020-21, up 14.5% from last year.
Log export volumes were expected to increase 21.4%, reflecting increased demand for export logs.
While there are starting to be some indications we may be heading for a slowdown in export, that remains to be seen.