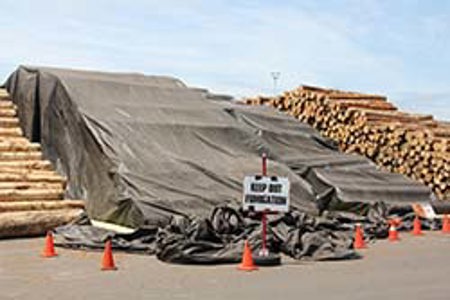 Methyl bromide gas will be phased out by 2033, says the Environmental Protection Authority (EPA). The ozone-depleting gas is used in New Zealand to kill pests from trade cargo, almost exclusively in the sterilisation of logs and export timber. The EPA says New Zealand's use of the toxic gas increased by 66% between 2010 and 2019, and that New Zealand is out of step with other countries which are lowering use.
"Methyl bromide is toxic to humans and damaging to the stratospheric ozone layer, which protects us from harmful UV-B radiation. The use of methyl bromide is controlled by the Montreal Protocol on Substances that Deplete the Ozone Layer, however it is exempt from the Protocol when used as a fumigant for quarantine and pre-shipment purposes. Nonetheless, Parties to the Protocol are encouraged to minimise the use of methyl bromide wherever possible," says Senior Lecturer in Environmental Physics, University of Canterbury, Dr Laura Revell.
She adds: "Various alternatives have been approved for use in other countries, including irradiation, cold and heat treatments, phosphine, sulfuryl fluoride, ethanedinitrile, and ethyl formate. When it comes to international trade, replacing methyl bromide is not straightforward since the alternative needs to be approved as a fumigant by both countries involved.
"New Zealand plans to prevent methyl bromide emissions from escaping into the atmosphere by implementing technology to recapture emissions. Previously a 10-year deadline was set to do so; until 2020. Given that the 2020 deadline was not met, and has now been extended out to 2033, it is difficult to get a sense of how seriously the new deadline will be heeded or enforced.
"As New Zealand is the fifth-largest user of quarantine and pre-shipment methyl bromide, reducing our emissions will make a difference globally. Atmospheric modelling shows that reducing methyl bromide emissions would accelerate healing of the ozone layer. Therefore, the decision to extend the phase-out of methyl bromide weakens the contribution that New Zealand makes to solving a global environmental issue, along with prolonging local issues relating to air quality and health."