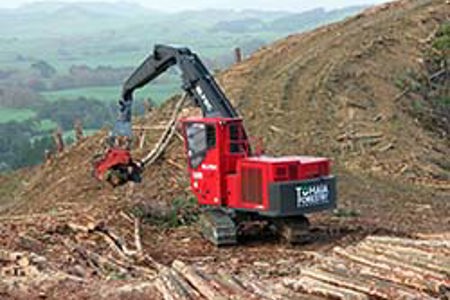 Originally designated as a log loader, the Canadian-built Eltec 317LL has found its niche in New Zealand as a log processor.
The model is equipped with a tall cab that has the dual role of providing the operator with a commanding view of the processing site and facilitating safer access through stairs up to the rear-entry cab.
All Eltec models use the same basic formula of identical superstructure, engine, hydraulics, electrics and so on. To make a specific model Eltec just bolts on, or swaps around, various components that are required for the designated task. Tohaia Forestry Harvesting has matched its Eltec 317 with a Woodsman Pro 750 head to work as a processor in the Maramarua Forest in the northern Waikato.
Read the full Iron Test on this purpose-built processor in the August 2021 issue of NZ Logger magazine, on sale from August 2. Click the link here to subscribe to a printed copy or digital copy (or both).